The Prime on Wheels campaign dropped by RE/MAX Millennium to showcase their new pre construction project- Prime Condos. Campaign posters and microphone in hand Jason Lam- VP of Sales and Marketing for Centrecourts Urban Developments- and his team pulled up in a red
glass campaign truck.
Showcased inside is a giant 3D model of their current undertaking- 319 Jarvis St. Champagne was popped and poured all around as Ron Sally and Jason Lam admired the 3D model from inside the red truck. Check out our video linked above for the full look.
Broker of Record Ron Sally was one of the brokerages approached by Centrecourt to take part in this new endeavour. With a specialty in pre-construction this is not the first time Ron Sally has been a part of a Prime Condos project. Centrecourts last development sold over 90 percent in the first week alone- amounting to over half a billion in real estate.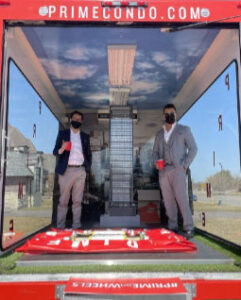 What is Prime?
As the landscape of downtown Toronto continues to evolve, the one one thing that has stayed constant is the cost. Prime Condos is developing in an area that offers all the markers of urban living, but at a more affordable price point. Located just minutes from Yonge and Dundas, Prime Condos are a great
alternative to those west of Yonge Street. 319 Jarvis is located across from Ryerson University and just minutes from George Brown College, University of Toronto and the financial district- which is home to over 200,000 jobs.