Centrecourts Urban Development's VP of Sales and Marketing Jason Lam coined the term "Follow the Smart Money"- but what does it mean?
During the worst part of the pandemic in 2020, Lam predicted 2021 would be the year of the condo. "Right now we're adopting a mentality of post pandemic thinking, we were never more active than in 2020. So it's not that the market wasn't transacting, it was just transacting in a different sector- which was low rise. So the pendulum was swinging in the low-rise world, but what happened is price down- the cost of low-rise just got so extreme. Let's take a step back and look at the whole market in the GTA, 416, 905, isolate and understand- and wow there's a lot of value in condos." He goes on to explain that this is the perfect market for investors or for people who are afraid of getting priced out of the market. For the full video click here.
What sets Prime Condos apart?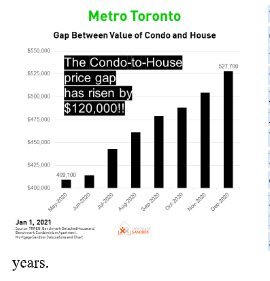 For those of you who are worried about those notorious downtown prices, "Toronto condo prices are still down about 5% year-over-year and down about 10% in downtown Toronto from their peak back in February 2020, which presents a good buying opportunity for condo investors." The gap between detached home and condos has risen by $120 000 in a matter of 7 months. Making the transition between moving from a condo to home even harder. However, if you are looking for a long term investment, or are afraid of getting priced out of the market then this is the perfect time to do just that. Prime Condos are the same distance from Yonge and Dundas as their more expensive counterparts west of Yonge. The "follow the smart money" logic entails looking ahead, using logic and predicting the market outcome by watching these real time trends and through history. Due to its centralized location, market drivers like immigration, tourism, students, and employment are expected to drive up the value of that area in coming.
Right now, condos are the most affordable asset, largely due to the pent up demand for downtown real estate. Living downtown means being in the centre of Toronto's diverse metropolis- with shopping, dining and the city's finest entertainment just steps away. With over 47,000 students across the street at Ryerson University there is a regenerating rental pool of students and faculty that promises to never run out. George Brown College, University of Toronto and OCAD are also minutes away. There is access to employment in hospitals, tech or the financial district- the second largest financial hub in North America home to over 200,000 jobs. This area has a nearly perfect transit score with various transportation options at each corner. These factors are what will be the driving force in determining the value of any current and upcoming developments in this area.
High Vacancy Rates & Increased Condo Listings

Rental vacancies are at record highs according to Urbanation's recent Q4 2020 GTA Rental Market Report and condo listings are up by nearly 66%.
So should investors wait until after the effects of the pandemic ease off?
Although this does provide some cause for concern, there are other factors to consider. For one the pandemic has forced people to reconsider where they live and has put a financial strain on many Canadians. Massive layoffs and business closures are causing people to relocate. This is what would cause the high vacancy rates and low rental rates. However this has little to do with investing in pre construction condos as things are bound to change 4 or 5 years from when the condos are actually built.
Most industry experts understand that the rental market fluctuations are due to the pandemic. They are anticipating that with the vaccinations students will be returning to campuses, borders will open back up and we will see a shift in higher demand for rentals again. So it is safe to say that this should not be a deciding factor when deciding whether or not to buy- short term factors should not contribute to long term investments.
Now, because many of these condos were purchased or will be purchased when prices are much lower- long term condo investors are not in a hurry to sell because of the lowered rental rates because they are in it for the long haul.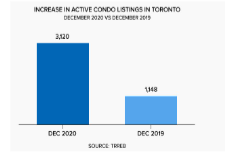 For those who see the sharp rise in condo sales from 2019 this and think there is panic in the condo sector are wrong. (Source picture to GTA-homes blog). What is actually happening is that the flood of in active listings are the perfect buying opportunity for anyone looking to invest in the downtown condo market.
Canadian real estate magazine also recently named condominiums as one of the best types of investment properties for 2021. "Condos are increasingly popular amongst real estate investors in bustling cities, especially because they're a bit more budget-friendly." Making them a great option for those looking to spend a little less but earn a lot more. To sum it up, in the words of Jason Lam 2021 is "the Year of the Condo."